Product Description




Fast print speed

Three times faster than the original Photon.

Large build volume

The build volume of 128mm x 120mm x 200 mm.

Secure power

The UV power could be adjustable from 30% to 100%.

Quick slice

Brings more accuracy for leveling.
Technical Specifications

● Operating screen: 3.5 inch resistive touch screen
● Slicing software: ANYCUBIC Photon workshop
● Connection: USB drive
● Light-source: Matrix light source (wavelength 405nm)
● XY Res.: 0.050mm 2560*2400 (3K)
● Z Axis Res.: 0.01mm
● Layer thickness: 0.01 ~ 0.15mm
● Printing Speed: MAX 60mm/h
● Rated Power: 66W
● Printer Size :270mm(L)*220mm(W)*445mm(H)
● Build Volume: 128mm(L)*120mm(W)*200mm(H)
● Printer Weight: ~8.5kg
● Boxed size:295mm(L)*345mm(W)*550mm(H)
● Weight (packed): ~9kg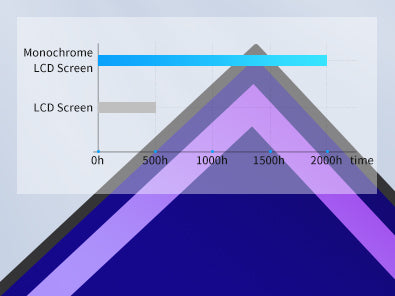 6.9'' 3K Monochrome screen

The life span of the Monochrome LCD screen can last 2000 hours.
Anycubic slicer software

It features faster operating, complete functions, hollow interior, text paste, model cutting, etc.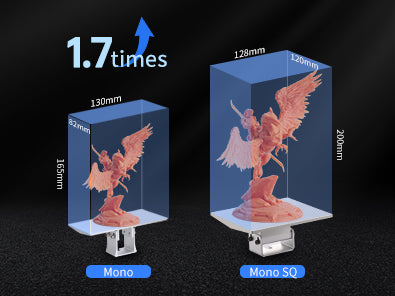 Large build volume

1.7 times larger than the Photon Mono/Mono SE.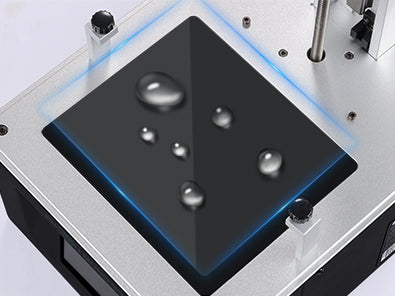 Anti-scratch FEP film

Prevent resin leaking and pollution, thus protecting the LCD screen and extending its life span.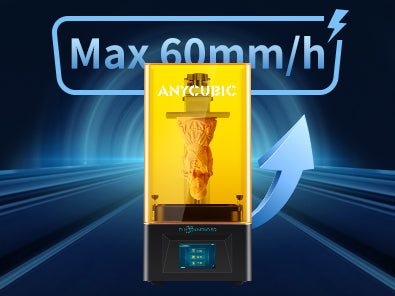 Fast print speed

Max print speed is 60 mm per hour.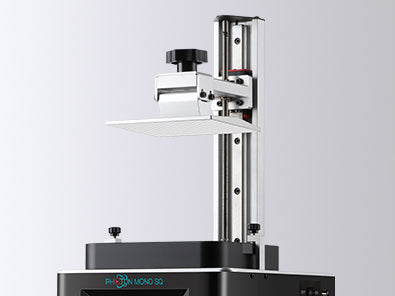 High stability

It is the combination of a high-quality Z-axis rail structure, silk rod motor and clearance nut.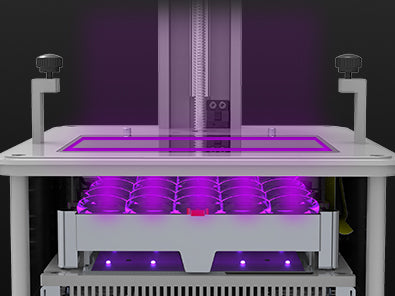 New Light Source

More durable and has a longer life span and offers a more solid and uniform light source.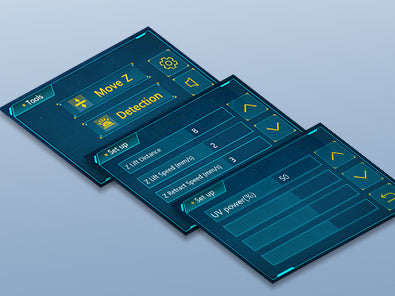 Adjustable UV power

allowing the printer to process a wide variety of resins.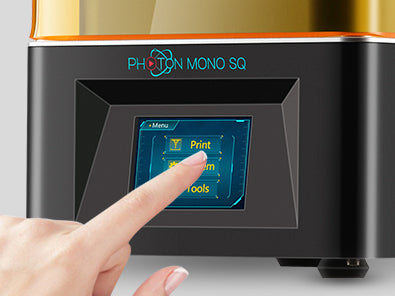 User-friendly interface

More convenient and intuitive to operate and make the parameter adjustment.
Parts List
User Manual
Tool set
USB Drive
Scraper
Resin Vat
Platform

Leveling Paper
Glove
Funnel
Power Adapter
| | | | |
| --- | --- | --- | --- |
| | | | |
| Printing Technology | LCD-based SLA Printing | LCD-based SLA Printing | FDM (Fused Deposition Modeling) |
| Build volume | 130x80x165mm | 192x120x245mm | 245x245x260mm |
| Print Materials | 405nm UV Resin | 405nm UV Resin | PLA, ABS, HIPS, PETG, Wood and TPU |
| Illuminant | Matrix | Matrix | None |
LCD-based SLA
Build Area: 130x80x165mm
Filament:405nm UV Resin
Diffusion: Matrix

LCD-based SLA
Build Area: 192x120x245mm
Filament:405nm UV Resin
Matrix: Matrix

FDM (Fused Deposition Modeling)
Build Area: 245x245x260mm
Filament: PLA, ABS, HIPS, PETG,
Wood and TPU
Anycubic Care
Firmware
Driver
/
Test model

please click on it to download.
Service