Anycubic 3DP Lithophane Halloween Contest 2021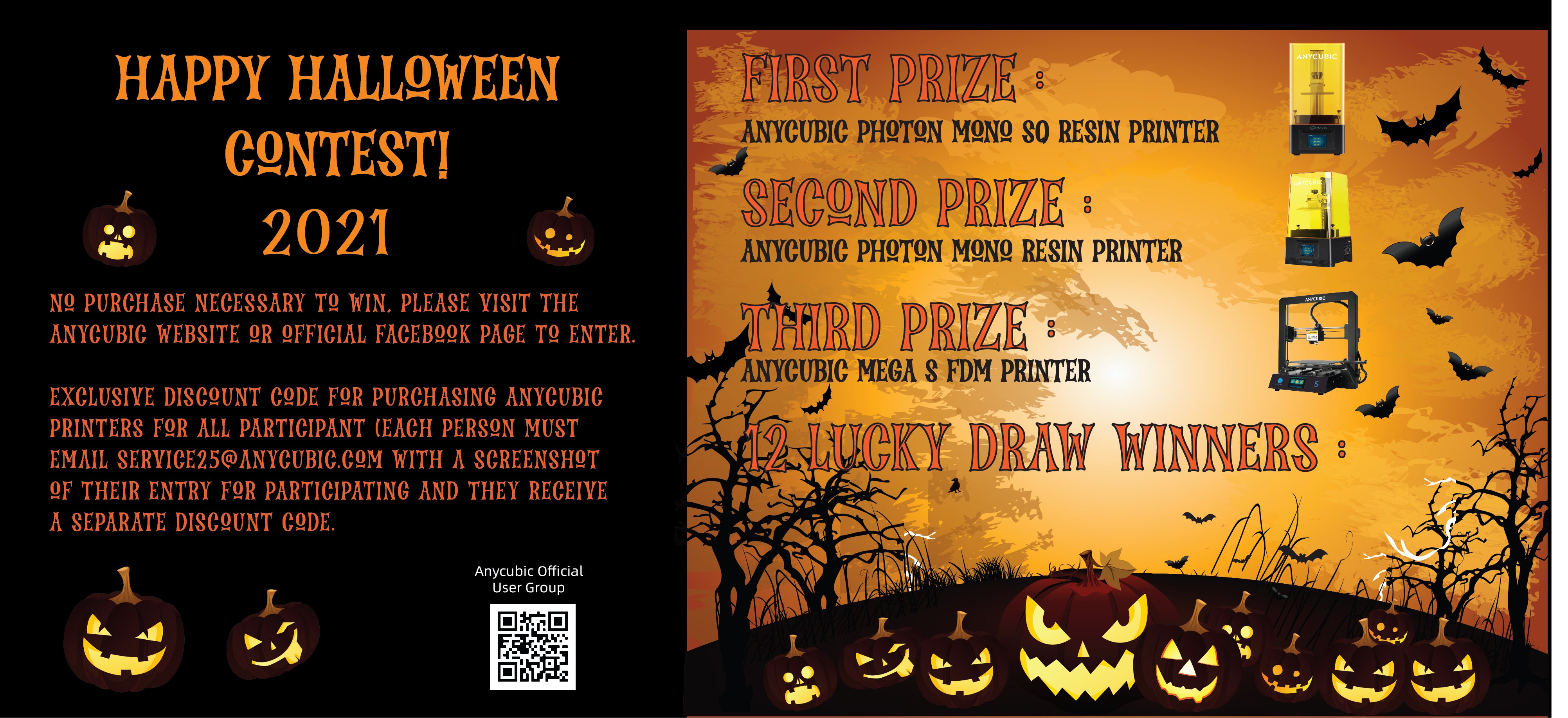 It's Halloween Printing Party Time. Welcome to Anycubic 3DP Lithophane Halloween Contest 2021. This contest will be held in our user group at :
https://www.facebook.com/groups/anycubic.users
, which will open for all makers to participate as long as you have a printer.
Details are below:
Contest Name: 
Anycubic 3DP Lithophane Halloween Contest 2021
Contest Date: 
Oct 18th -31st
How to participate it
❓
✅ Like and share this post in your own profile and groups
✅ Like Anycubic Facebook Page  https://www.facebook.com/ANYCUBIC3dprinter
✅Share your Halloween prints  in Anycubic Official User Group with the topic
 "#Anycubic3DPLithophaneHalloweenContest 2021" before Oct 30th.  
 

What prize will you get❓

✅1st prize: 1 Anycubic Photon Mono SQ printer
✅2nd prize: 1 Anycubic Photon Mono printer
✅3rd prize: 1 Anycubic Photon Mega S  printer
✅Lucky draws: 1 unit of 4Max Pro 2.0, 1 unit of Anycubic Mega S printer, 1 unit of Wash and Cure 2.0 Machine,
     5 bottles of Resin, 4 rolls of PLA 
✅Exclusive Discount Code for purchasing Anycubic printers for all participant (each person need email
     service25@anycubic.com with a screenshot of their entry for participating and they will receive a separate discount code.) 
Reminder**
1. Anyone who participates in this contest would receive an Halloween themed STL file from Anycubic
2. Anyone who prints Lithophane prints as part of our contest will be eligible for a very special discount. (Visit our official user group for specific details)
3. The 3 primary winners will be chosen via the amount of 'Likes' they receive within the group. We will announce detailed rules on how to avoid the contest being artificially manipulated.
4. Additionally, we will choose via live streaming, 12 random 'Lucky Draw' winners.
5. All winning items will be sent from the country that is closest to the winner, to make sure that there are no delays in receiving the items.
6. Anycubic will contact the winner directly through Messengers for shipping address and other details.
Download Halloween themed STL file for making your own Litho as below:
Click here
Happy Halloween Printing and Good luck everyone!

All rights reserved by Anycubic.