Anycubic Kobra 2 Pro vs Kobra Go: FDM 3D Printers Comparison Guide
Kobra Go is a standard-sized auto-leveling FDM 3D printer. It is affordable, balances functionality with ease of use, and meets the needs of many makers. Kobra 2 Pro is a member of the newly launched Kobra 2 high-speed printer series. It is also a standard-size FDM 3D printer suitable for home use. Kobra 2 Pro has been upgraded in terms of printing speed, printing quality and intelligent printing. In this article, we will compare the Kobra Go and the Kobra 2 Pro, highlighting their highlighting the key differences in their features and functionality, with parameter comparisons to help you choose the right FDM 3D printer for you.
FDM 3D Printer: Standard Size for Home
Fused deposition modeling (FDM) 3D printers are versatile tools that are being used in more and more fields. In addition to prototyping, designers, and makers, more and more enthusiasts, educators, and students are trying 3D printing. Among desktop 3D printers, standard-size FDM printers are classic and popular. The standard size FDM printer is affordable, easy to use, and suitable for a wide range of consumers, enthusiasts, and home use. At the same time, it is also very friendly for newcomers to the field of 3D printing.
Kobra Go vs Kobra 2 Pro
Anycubic Kobra Go: Kobra Go is a great choice for budget-conscious users, it costs $209 and is usually under $200 during discounts. It has a print size of 250x220x220mm (HWD), equipped with a 25-point automatic leveling system for one-click leveling; a PEI-coated spring steel platform for easy model removal and maintenance; and an optional smart sensor (filament run-out detection) to effectively reduce the waste of time and filaments.
Anycubic Kobra 2 Pro: Kobra 2 Pro is very suitable for users who value high speed, high performance and intelligence. Its print size is 250x220x220mm (HWD), equipped with LeviQ 2.0 automatic leveling system and supports Smart Z-Offset. The standard printing speed of Kobra 2 Pro reaches 300mm/s, with double threaded rod Z-axis escorting the speed, and X/Y axis also adopting double metal spindle to ensure stable performance. A new version of Anycubic APP will be launched in Q4 2023, which can realize remote control and management of Kobra 2 Pro printing.
Anycubic Kobra Go VS Kobra 2 Pro: Comparison of Parameters
Kobra Series
Kobra Go
Kobra 2 Pro
Build Volume(HWD)
250x220x220mm
250x220x220mm
Bed Leveling
Anycubic LeviQ
25-point Automatic Leveling
New Anycubic LeviQ 2.0
Automatic Leveling System (25-point)
Printing Speed
<100 mm/s
<500 mm/s
Nozzle
≤500℉/260°C
ø 0.4mm (replaceable)
≤500℉/260°C
ø 0.4mm (replaceable)
Extruder
Bowden Extruder
Direct Extruder + Double Gears
Z-axis
Single Thread Rod
Double Threaded Rod
Anycubic APP
No
Yes
Filament Detection
Optional
Default
Printing Platform
One-sided PEI-coated Metal Steel
PEl Magnetic Spring Steel
Control Panel
2.4" LCD Screen & Control Knob
4.3" LCD Touch-Control Screen
Printing Material
PLA/ABS/PETG/TPU
PLA/ABS/PETG/TPU
Machine Dimension
490x443x445mm
486x435x463mm
Machine Weight
7.3 kg
8.4kg
Anycubic Kobra Go VS Kobra 2 Pro: Comparison Guide
Anycubic Kobra Go VS Kobra 2 Pro: Printing Speed and Performance
Users of 3D printers are increasingly looking at print speed. High-speed 3D printers also mean users can complete model printing faster, improving efficiency and productivity. This is especially valuable for those needing rapid prototyping, small-scale manufacturing, etc. Anycubic Kobra 2 Pro boasts impressive print speeds, with standard speeds of 300 mm/s and maximum speeds of 500 mm/s. Equipped with a high-performance Cortex-A7 1.2GHz processor, as well as upgraded base and cooling systems, it ensures efficient printing and cooling, delivering high-quality results. Kobra Go is equipped with a Bowden extruder. The separate design makes the hot end lighter, encounters less inertia when moving, and prints faster. The maximum printing speed can reach 100mm/s, which is better than many entry-level 3D printers.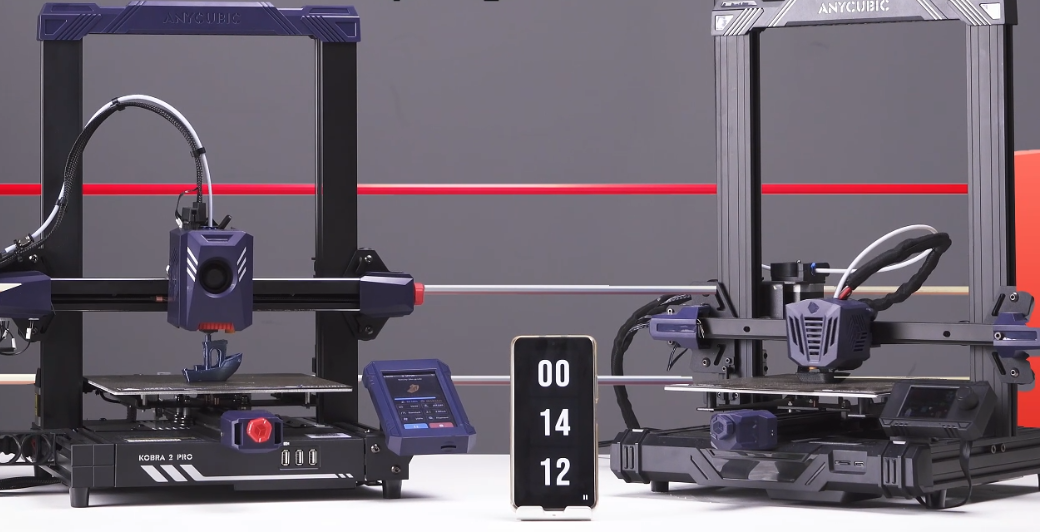 Anycubic Kobra Go VS Kobra 2 Pro: Precision and Upgrades
Both Kobra Go and Kobra 2 Pro are equipped with automatic leveling systems. Kobra 2 Pro supports intelligent z-axis offset, which can simplify the setup process and obtain high-quality printing first layer. To enhance the user experience, Kobra 2 Pro integrates advanced features such as vibration compensation and flow control. It intelligently detects resonance frequencies on the X/Y axis and adjusts motion control to maintain print accuracy and stability. Flow control ensures consistent extrusion for even and detailed prints. These advanced features are not included in the Kobra Go, but for experienced 3D printer users, setting up and adjusting the printer to their needs will still result in consistent and reliable prints.
Kobra Go vs Kobra 2 Pro: Conclusion and Recommendation
Anycubic Kobra 2 Pro comes with modular components, making it faster and easier to set up. Kobra Go adopts a DIY assembly method, which can help users understand the printer's modules, but it may be a little time-consuming. As a more affordable option, Kobra Go has complete functions and high cost performance. It can be considered by users who do not have high speed requirements. Kobra 2 Pro supports high-speed printing of 300-500mm/s, and through upgrades and optimizations, it brings users a more convenient and smarter experience. It is a good choice for both beginners and experienced users. Both Kobra GO and Kobra 2 Pro have unique advantages, so choose according to your specific needs, and hopefully, you will have a satisfying 3D printing experience.
Speed competition: Kobra 2 Pro vs Kobra Go
---